Live Streaming Video :
(Click thumbnail to switch to our YouTube Channel ) :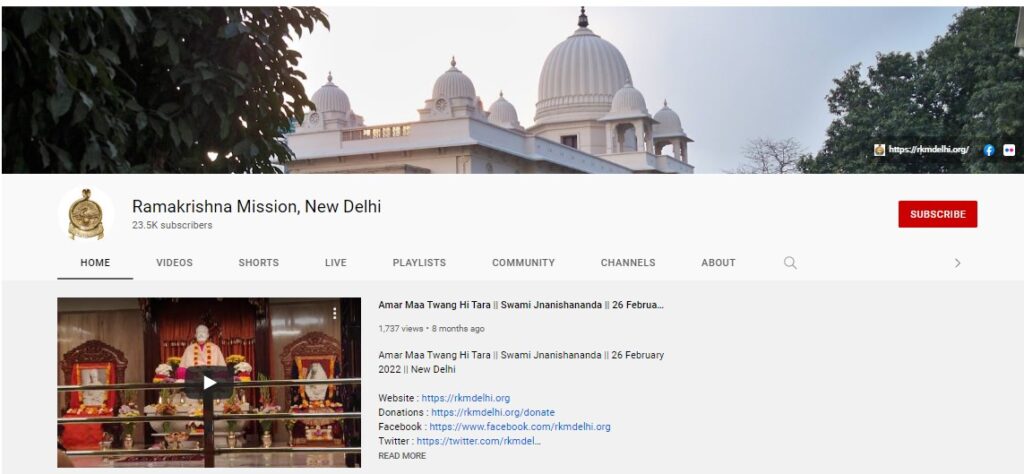 Morning Session (November 1, 2022)
Gurgaon Dedication Ceremony
By the grace of Sri Ramakrishna, the Holy Mother and Swami Vivekananda, Ramakrishna Mission, New Delhi has recently been able to construct an eight-storeyed building in HUDA, Sector 47, Gurugram which will serve as the Ramakrishna Mission, Gurugram – the first centre of the Ramakrishna Order in Haryana. The above building with a beautiful shrine shall be dedicated by Srimat Swami Gautamanandaji Maharaj, Vice-President of Ramakrishna Math and Ramakrishna Mission and Adhyaksha, Ramakrishna Math, Chennai on the 2nd November 2022 (auspicious Sri Sri Jagaddhatri Puja day) at 7:30 am. In this connection a three-day programme has been drawn up from November 1 to November 3, 2022.
It is going to be a massive programme with 150 Sadhus from all over the country attending it. We have to make arrangements for travel, accommodation and feeding of Sadhus. About 1,000 devotees are also expected to participate. There will be Puja, Bhajans, Musical programmes, etc. The celebration is likely to cost around Rs. 80 lakhs. As on date we have only a few hundred devotees of Gurgaon in our mailing list. Of course, once the centre opens more devotees from Gurgaon would attend the programmes and also support the centre. But, as of now it is largely the responsibility of Delhi devotees to participate in large numbers and also financially support the celebration. Hence, we request you to contribute liberally towards the cost of the celebrations.
Entry to the Gurgaon Dedication Ceremony will be possibly only with the delegate badge. Hence, don't come on the function day and ask for the delegate badge or invitation card. Please collect them sufficiently early. During the function or on the days of the function it will not be possible to distribute either the invitation card or the delegate badge.
Thank you
Programme schedule: