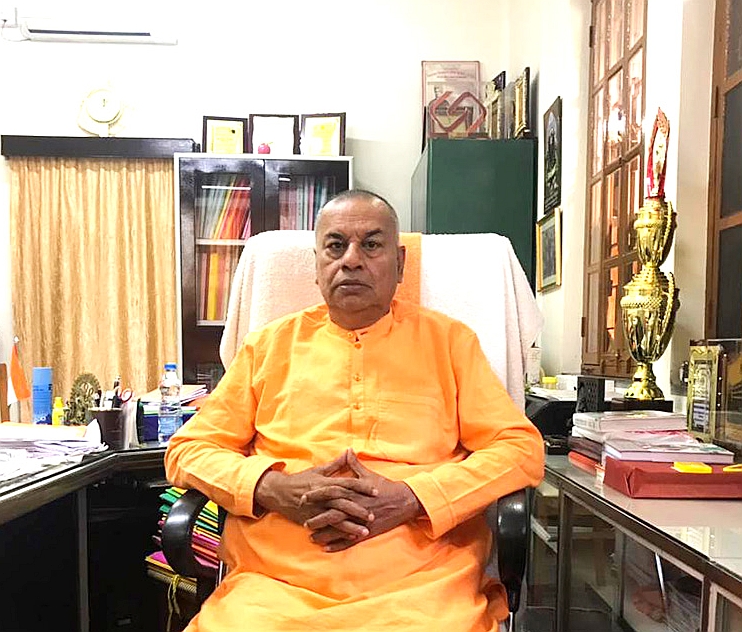 Swami Sarvalokanandaji Maharaj is a senior monk of The Ramakrishna Math and Ramakrishna Mission, a Global Spiritual Organization which has been spreading the message of Peace, Harmony, Friendship, Brotherhood and Universal Tolerance and Acceptance all over the world for more than hundred years.
He is a popular speaker on Vedanta philosophy, propagating the Universal message of Sri Ramakrishna Paramahamsa and Swami Vivekananda. He travels length & breadth of India and abroad to promote peace & harmony through Intra & Inter-Faith dialogues and Parliament of Religions.
Swami Sarvalokananda embraced monastic life, joining the Holy Order at its Kankhal, Haridwar, India Branch way back in 1973 where he served for 12 years where he was deeply involved in Spiritual practice and the Medical Service of the Ramakrishna Mission Hospital.
Later, Swamiji's services were required at the Ramakrishna Mission Seva Pratishthan, Kolkata, the largest Medical institution of The Ramakrishna Mission in India. He served the institution with singular distinction for 22 long years, the first ten years as its Assistant Secretary and last twelve as its Secretary.
He served the Ramakrishna Math and Ramakrishna Mission, Mumbai as the Adhyaksha-cum-Secretary from 2010 to 2016.
He served as the Head of Ramakrishna Mission Ashrama, Narendrapur, Kolkata, India, which is the largest centre of Ramakrishna Math and Mission in the world, from 2016 to April 2023.
Presently, he is serving as the Head of the Ramakrishna Mission, New Delhi.
Contact :-
Ramakrishna Mission,
​Ramakrishna Ashram Marg,
​New Delhi – 110055
Email:- [email protected]/ [email protected]
Landline:- +91 – 011 45626785, 41071817