Swami Shantatmananda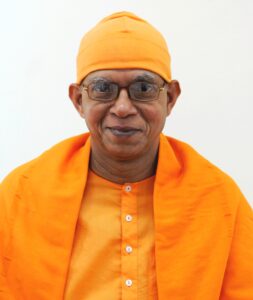 Dispassion for the world and attraction for Swami Vivekananda's ideal of "Service to Man is Service to God" led a working professional in his twenties, to tread a new path.  The youngster who joined the Ramakrishna Order as a monastic, later became Swami Shantatmananda, after formal monastic vows.  In his journey of nearly 45 years in the Ramakrishna Order so far, he has spent nearly 30 years at the international headquarters of the Order, viz.  Belur Math in West Bengal.  He was in-charge of the Audit Department for more than two decades and brought about many important reforms.  He was also instrumental in initiating major staff welfare schemes benefitting thousands of employees.
His passion for service to the poor and marginalised, led to his helping in the setting up of two voluntary organisations in West Bengal, namely Sarada Seva Sangha and Sarada Kalyan, largely managed by trained women volunteers.  These have turned out to become wonderful examples of women empowerment.  When he assumed charge as the Head of the Ramakrishna Mission, Delhi nearly 15 years ago, new vistas opened before him.  Dissemination of the spiritual messages of Sri Ramakrishna, Holy Mother Sri Sarada Devi and Swami Vivekananda as well as conducting scriptural classes became one of the major focus areas.   These and other lecture assignments have taken him all over the world.
His passion for interfaith harmony inspired him to organize a World Meet for Peace and Harmony in 2012, which was inaugurated by His Holiness the Dalai Lama.  The fact that Swami Vivekananda's ideas of man-making and character-building education have not penetrated our educational system compelled him to start a programme to awaken children to their full potential, through gentle nurturing and guidance.  This nascent idea led to a full-fledged Awakened Citizen Program, which was launched in 2013-14 and is currently running in over 5,500 schools, all over India.  The programme has already changed mindsets and touched the lives of 10 lakh children and 20,000 teachers.  He is now working on developing programmes for primary school children, parents, administrators, corporate executives, professionals and others who are likely to benefit from the powerful and highly relevant, contemporary ideas of Swami Vivekananda.  He is in the process of setting up a separate institution, namely Vivekananda Institute of Values (VIVA) for this purpose at Gurgaon, in Haryana.
He has been a member of some of the insightful committees set up by Central Government on Education.  Presently, he is a member of the NITI Aayog.  Swami Shantatmananda has contributed a column on Hinduism for eight years in the newspaper Sunday Guardian.  He also writes occasionally for the Speaking Tree of Times of India.  He has a deep love for music and he is deeply interested in sports.
Photos
---
[lastupdated]
[/vc_column_text][/vc_column][vc_column width="1/4″][vc_widget_sidebar sidebar_id="page"][/vc_column][/vc_row]